Are you looking for popular new hairstyles in 2022? We've selected the best haircuts and hairstyles for women. Come and discover the hottest hair trends and popular haircuts and run to your local salon. Some of these 15 hair trends are here to stay, we're sure of it!
Hair trends 2022
1. Bob hairstyles: can't-go-wrong-hairstyle in 2022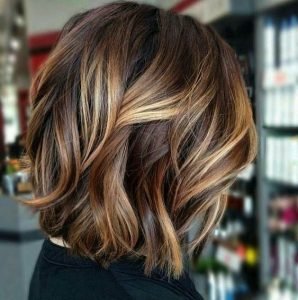 Ah yes, the ever so classic bob! We're telling you… these bob haircuts are here to stay! In about a year or 5, we'll still see these classy cuts on the street. One of the trendiest haircuts in 2022.
2. Hairstyles 2022: Ombre hair colors
Ombre hair colors are not dead. We repeat: ombre hair colors are not dead! Sure, they have changed a lot in the last couple of years (and can we say… for the better). They used to be so vigorous, now the ombre hair colors that are popular are the ones that give off a more natural ombre vibe. Pfew.
(source: balayage kapsels)
3. updo hairstyles
A-ha! Yet another super classic hairstyle: the updo! Even in 2022, we'll see the updo make a big comeback. It used to be a typical bridal hairstyle or a perfect hairstyle for prom, but now a classy updo is totally normal in daily life. But.. the cool girls go for a super messy updo.
4. lob haircuts (long bob haircuts) – the haircuts 2022
5. pink hair colours
6. Hairstyles: Braids in your hair
7. Braided pony tails (hello hairstyles 2022)
8. Haircuts à la mode: Wavy bob hairstyles
9. Pixie cuts
10. Long hair with curtain bangs (2022)
Curtain bangs were huuuuuge in 2019 but hello… they will still be the hottest hair trend in 2021, mark our words! They are so incredibly seventies chique, you won't regret your curtain bangs and you'll absolutely love your fringe! Talking about some fringe benefits 😉
11. Natural hair
You do you, love! So yeah, let your wild hair just be wild and enjoy your natural hair. Take good care of your afro and OWN.IT!
12. Ribbons in your hair
13. Cappucino hair color
Really.. we're naming our hair colors after drinks now? We could totally use a cappucino right now, thanks a lot, cappucino hair color! But yeah, a super trendy hair color right now, along with the balayage hairstyle.
14. Balayage hair
Ah yes, sweet balayage hair! We've seen you in 2017, 2018, 2019 and also in 2020, 2021 and 2022 you'll be the hottest haircolour in town! Get your balayage on, ladies!
15. fingerpainted hair
Much like a balayage, but a different technique. It uses even tinier strokes to paint your hair to get an even more natural effect. It takes a while but boy… such a stunning result!
16. Curtain bangs
(source)
17. Hollywood Glam hair
(source)
18. Platinum blonde hair
(source)
19. Caramel Highlights
(source)
20. Mushroom blonde hair
(source)
21. Ash blonde and ash brown
(source)
22. Accessorize
(source)
23. The money piece
This nineties hairstyle is totally making its comeback.
(source)
24. Rainbow money piece
(source)
25. Blunt bob
(source)
26. Dark roots blonde
(source)
27. Sandy blonde hair
(source)
Hair trends 2022
Which of these hairstyle trends are you going to ask for in 2022? We're a fan of the amazing fingerpaint hair colors and the wavy bobs. Just gotta love them!
Even more Hair trends and hairstyles for 2022
Have you thought of changing your hairstyle in 2022? Then, this is the right time to make the changes.
A new era is on the horizon, there is an advent of new looks to play with, and there is a lot of inspiration for new hair trends in 2022.
To guide you in choosing from the myriad of alternatives, we had consultations with several prominent hairdressers to check on their ideas on the trending hairdos, colors, and styles for the summer of 2022.
BOB hairstyles
If you are afraid of lobbing off a lot of your locks (we understand), you should realize that there are numerous methods to give you a unique appearance, and the length doesn't matter.
Longer bobs- also known as lobs- is an appropriate way to put the trend, without dedicating to something that is dreadfully short.
Regardless of having thick or fine hair, straight or curly, we have a collection of inspirations from celebrities that will encourage you to finally wear the bob.
Ombre hair
There are no signs of adoption of Ombré hair slowing down. And it does not involve a lot of rules.
This trendy style only needs one hair root color that eventually changes to different color at the tips. Keep in mind a single of these gorgeous ideas to tag along during your next visit to the salon!
Soft ombré, or "sombré," makes your hair appear more dynamic while being subtle enough with minimal maintenance.
The perfect Ombré, for any person who is afraid of performing a significant alteration- Just a little smoothly altered lightness at the ends or so produces a beautiful Ombré appearance devoid of coloring much of the hair.
BRONDE
Bronde hair color works in any season. A mix of brown and bronde-tones ombre colors and balayage appearance is captivating on almost everybody, and numerous methods can achieve the look. And we are serious when we say endless.
Regardless of you having stick-straight hairs or a complete 'fro, you can shade your hair to achieve this one of a kind, beautiful look.
This combination of hair color is excellent for shifting into darker winter colors, yet, as we earlier said, good enough to keep throughout the year. Prominent celebs have all adopted a hair color that is blondish-brownish as well as the people from Instagram.
Models, vloggers, bloggers, and influencers have all been displaying fresh multi-toned varieties of bronde-and we fully support it.
"if you are unable to decide on whether to choose light or dark during summer, then 'bronde' is yours.
A fresh and sparkling appearance, the key advantages of this color of hair, is that it is obtainable and cost-effective maintenance, maintaining the hair in perfect health and giving it spark and shades for color pops and illumination".
UPDO's
There has been an evolution of Updos over time, but we are not yet satisfied with a comfortable and elegantly looking hairstyle.
With inspiration from celebrities, we possess every information for you to make an excellent Updo hairstyle for any event.
When you need to dress up in the future (or you just need more elegance), test any of these stunning updos.
ASYMMETRICAL BOBS
"An asymmetrical bob with a solid baseline shows healthy thick ends, and you can either wear this poker straight or with a wave combination. Attempt shifting your part line to deep side portion for more drama or (opt for) that very traditional, conservative middle section".
THE SEVENTIES REVIVAL hairstyles
The List quoted the founder, master colorist, and director of arts of Wayne's N.J Perlei Salon, Linsey Barbuto saying, "In 2022, The Farrah Fawcett feathered layers, will become the eventual cut".
"The Layers which are long (function) well for all hair types and excellent for long hairs since it boosts the body and bounce." besides, it has a perfect combination with curtain bangs.
HIGH-SHINE BEACH HAIR
This hair trend is a very '70s, textural approach. (it involves) making similar movements in the mid-lengths and tips, however, instead of a dry finish, utilizing smooth, more manageable products with a sparkling output.
Poppy Delevingne and Margot Robbie excellently do this, with plaits or twists that are irregular, which boosts interest and a combination of textures. This has a perfect look with soft brondes and multi-tonal hues in neutral, high-shine gloss colors.
THE WET LOOK
"We'll see a new attraction with gel. Gel is good for making low glistening ponies for a conservative look.
Hint: the ends of back slacking wet look, with a look which has a 'more is more' focus to gel. The high-shine and no straying pieces makes a great combination with the luxe finishing."
Headbands and messy hair
The major hairbands of 2019, which had studs and pads have temporary leave to create space for the silky, soft additives hair trend that will free updos in 2022.
Braided tendrils
if you think that the layers of face-framing of the trend of the 90s will be dead in 2022, sorry, you are wrong.
They are simply becoming powerful and Insta-worthy. However, don't fret; braided tendrils- a style that is not new, but surely will come up even more in your notifications-are simple, granted you understand braiding.
Floaty fringe
"If you are contemplating bangs, but you are hesitant to completely embrace them, test a solid number that is floating-over-the-eyebrow.
This shape of a square is jade but still has serious considerations when on-guard is a requirement.
Besides, you can manipulate the length and shape. You can smoothly blow it so that its presence is strong, or you can divide it into pieces so that it looks smooth and choppy. The bangs are nailing it."
Super bright hair colors
Uhhh, excuse me, do all of us currently color our hair denim-blue?!
(Response: yes) be ready to observe many of your best influencers and people of fashion displaying bright colors on their hair this spring.
French girl bob
"French girl bobs are fast catching up this season. The fact that you can wash-and-wear this haircut makes it amazing.
Allowing it to dry in the air is the secret to producing amazing feel with this super chick look, and it is perfect for summer. The concern of hair next season is having a short length and maintaining things for enjoyment".
Pearls in your hair
Be truthful: is there a chance that you have seen beautifully looking gems? Far taken from the necklace of your grandma, the pearls at Andrew Gn were attached to cornrows that were crisp and glossy topknots, conferring them an authoritative contemporary, insta-worthy force for 2022 spring.
Buttery blonde hair color
"I love natural, dark regrowth of roots in combination with strands of caramel features to indicate dimension. (for this appearance) you are not required (to have) unchanging features right from the root either since in addition to drying out the root area and causing breakage with time, it also (due to) leaves the natural roots to add more texture".
Hair Combs
If you require more evidence of the '80s and '90s overtaking 2022 spring hair trends, then just watch the Tory Burch show.
Models had brushed out and pulled their hairs with combs- an appearance that had a close inspiration from Princess Diana (and, in similarity, all our mothers).
Test this hair: brush out your hair (or maintain your natural texture), then make a deep side section above one eyebrow.
Scoop back every side of your hair, tightening with hair clips, and smoothen any flyaways with a hairspray layer.
A micro fringe
"I am a fan of this appearance and the extent to which it can expose a face, and it's an appearance that can function with short, medium, or long hair."
Half-up Buns with twists hair trend
Half-up toptwists?. But twisted half-up topknots? A lot, in addition to being a significant hair trend in 2022 spring, reports from the show of Anna Sui.
Models put on feathery, combed-out features with big unkempt, loosely flying buns primarily with the assimilation of IDGAF.
Go for this hair trend: separate your hair from one ear to another (or for a minimal bun, from one temple to another), then divide the portion in the middle, such that you are clutching hair on each of your sections.
Loosely roll each part inwards, from your hairline to your crown, holding in place, then turn and curl the finishing into a bun on your head's top, again keeping in place.
Jaw-length bob
"The strong horizontal (finishing), which is not concave, bob, simply produces elegance and the style of don't-mess-with-me.
However, be aware that before deciding, you need fine delicate features of the face to achieve this feat."
Hair trend of 2022 spring: Crystals
How beautiful is this hair?!
Dreamy, there were a lot of attractive waves and curls in Bibhu Mohapatra pageant this term. However, the most surprising hair trend of 2022 spring was the smattering of hair crystals tied to the hairs of some models.
Dit bericht bekijken op Instagram
Go for the hair trend: honestly, almost attaching particles to your hair (please, who does that), the simplest-and convenient method of imitating this appearance is to slip a crystal piece of hair on the side of your hair, at the rear of your ear.
Face framing: the money piece
"The "money piece" is a brilliant frame near the front hairline (which has been) customized due to foiling or lightening.
This skill promotes your complexion, makes your color vibrant, and softly fades away, with little maintenance. We predict the money piece becoming a popular trend (in the next season)."
Giant Finger Waves
Finger waves will always remain in style, and to reiterate that they will be a rocking spring trend, Ermanno Scervino showcased the finger waves at its 2022 spring show, definitely, great. Ultra-shinny and colorful, the big finger waves feels both retro and ready for spring.
Go for the trend: hear this; if you are thinking it was difficult to describe the last hairstyle, do not expect that finger waves will be more straightforward. And, therefore, I offer you this comparatively simple finger-waves guideline. You have roughly one season to make it perfect for spring.
Lobs (long bobs)
"Lob season is nigh! This look is amazing and perfect for people who love wearing their hair up, in addition to wanting texture, and the alternative to wear it down. (it's) perfect for summer fashion, maintaining the (full appearance) cool and chic."
Flip it like the 60's
Anthony Nader, Salon proprietor and RAW Director of Creativity RAW Anthony Nader:
"The new 'flip' hairstyle is still sculptural, but with more relaxation and minimal flipping over (at the end). Similar to the first version, it begins with a clear scalp, which leads up towards the crown, conferring it the gorgeous vibe of the '60s".
The itty-bitty barrettes and the 2019 clips are preparing for the spring of 2022, shifting from the category of accent to the territory of a statement. The Affair models put on jewel-embedded flowers held in place in their hair and crystal strings along their heads to produce a feeling of luxury.
Haze glazing
"Haze glazing provides a brilliant sun-lit effect to the hair. We add a warm glaze to pre-lightened hair to achieve haze.
The glaze selects on the areas of the hair that are pre-lightened (while) dilute, but a warm wash of color makes the hair brilliant and the texture shows. A mixture of a base shade and warm glaze tones creates the palette.
Adorned Braids
Let's be honest: generally, braids and box braids will always trend, however, for the Pyer Moss models, they were particularly front and center, with beads and flowers of gold decorating the lengths of the hairs of the models
Face-framing layers
"This haircut is all about amazing long, face-framing layers with a baseline which is solid to produce shape and volume but maintaining the thickness and fullness of hair (It's) great for summer, possess a 'wow' influence and is suitable for individuals who love beach-wave and enormous hair."
Spring 2022 Hair Trend: Messy Buns
The shaggy the hair, the better, if any signs from the models at Fendi indicates the coming major spring 2022 trend of hair (they are definitely).
The looks were Ultra-messy, running-late-for-life double buns, half buns, and Chignons, which made many lazy individuals everywhere to be happy.
Fade-to-bronde
"here, the secret is evenly adding various shades of wheat and honey tones, such that the color appears already lived-in, true and away from appearing similar to #FakeBronde."
The bowl bob cut
"Mary Quant originally made the bowl bob cut famous in the '60s, and has since returned to the runaways. For this look to work for you, consider the shape of your face to adjust the length of your fringe".
Deconstructed hair styles
" There will be a deconstruction of hair but not luxe. Numerous post-punk anti-development soft crops [and] contemporary early '90s. [and] soft '60s and '70s fringes with carefree air and the involvement of little styling."
60's hairstyles
Can a hair trend survive a full decade? Absolutely, and Veronica Beard proved this by sending its models in a pageant with deep, side sliding parts, teased heads, and blunt bangs of babies, à la Mad Men meets the year 2020 (…and feminism).
Go for the hair trend: I much recommend you to decide having some small baby bangs, but if it's too much, attempt a faux side-bang for spring.
Make an intense section at the end of your eyebrow, pull back your hair past your ear. Slowly touch your head, then curl your hair into a french braid, half-up ponytail, anything. It's about all the "bangs."
Curtain bangs
If you don't like having a fringe in your eyes but still love the appearance of longer bangs, you may be rightly fit for curtain bangs. "Originally, Linsley Barbuto made this hair cut famous in the 1970s". The List learned that Linsey Barbuto, master colorist, artistic director, and founder of the northern New Jersey-based Perlei Salon. According to Barbuto, it is expected that in 2022, curtain bangs will give off the " ultimate cool-vibe."
According to the expert, curtain bangs are also "particularly flattering if your forehead is longer." Besides, it is easier to maintain the looks in comparison to other bang styles.
When speaking with Refinery29, singer Camilla Cabello shared how she keeps her cool-girl curtain bangs, and sure, it's effortless. "My secret is to hold my bangs behind my ears such that they have a soft appearance and achieve that curtain feat," she explained.
And, if you no longer want bangs, Barbuto explained that you could just grow the fringe into layers. When they become long enough, "you can simply attach them behind your ears."
More curtain bangs
Slicked back hair trend.
The full hair tone at the 2022 spring show at Carolina Herrera was clean and brilliant, with models donning their bobs, lobs in as well as back-length hair slicked back at the roots to the napes of their necks.
Go for the hair trend: for a fast wet-look finish, spread a pinch of hair gel between your wet hands, then rake your roots using the hands, extending your hair behind the ears. Severally apply the layers of gel, then use a fine-tooth comb to comb it back and finally apply hairspray.