(Last Updated On: April 2, 2019)
Are you looking for popular new hairstyles in 2019 and 2020? We've selected the best 15 haircuts and hairstyles for women. Come and discover the hottest hair trends and popular haircuts and run to your local salon. Some of these 15 hair trends are here to stay, we're sure of it!
1. Bob hairstyles: can't-go-wrong-hairstyle in 2019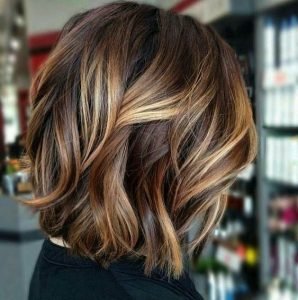 Ah yes, the ever so classic bob! We're telling you… these bob haircuts are here to stay! In about a year or 5, we'll still see these classy cuts on the street. One of the trendiest haircuts in 2019.
2. Hairstyles 2019: Ombre hair colours
Ombre hair colours are not dead. We repeat: ombre hair colours are not dead! Sure, they have changed a lot in the last couple of years (and can we say… for the better). They used to be so vigorous, now the ombre hair colours that are popular are the ones that give off a more natural ombre vibe. Pfew.
(source: balayage kapsels)
3. updo hairstyles
A-ha! Yet another super classic hairstyle: the updo! Even in 2019, we'll see the updo make a big comeback. It used to be a typical bridal hairstyle or a perfect hairstyle for prom, but now a classy updo is totally normal in daily life. But.. the cool girls go for a super messy updo.
4. lob haircuts (long bob haircuts) – the haircuts 2019
5. pink haircolours
6. Hairstyles: Braids in your hair
7. Braided pony tails (hello hairstyles 2020)
8. Haircuts à la mode: Wavy bob hairstyles
9. Pixie cuts
10. Long hair with curtain bangs (2018 going on 2019)
Curtain bangs were huuuuuge in 2018 but hello… they still will be the hottest hair trend in 2019, mark our words! They are so incredibly seventies chique, you won't regret your curtain bangs and you'll absolutely love your fringe! Talking about some fringe benefits 😉
11. Natural hair
You do you, love! So yeah, let your wild hair just be wild and enjoy your natural hair. Take good care of your afro and OWN.IT!
12. Ribbons in your hair
13. Cappucino hair colour
Really.. we're naming our hair colours after drinks now? We could totally use a cappucino right now, thanks a lot, cappucino hair colour! But yeah, a super trendy haircolour right now, along with the balayage hairstyle.
14. Balayage hair
Ah yes, sweet balayage hair! We've seen you in 2017, 2018 and also in 2019 and 2020 you'll be the hottest haircolour in town! Get your balayage on, ladies!
15. fingerpainted hair
Much like a balayage, but a different technique. It uses even tinier strokes to paint your hair to get an even more natural effect. It takes a while but boy… such a stunning result!
Hair trends 2019 and 2020
Which of these hairstyle trends are you going to ask for in 2019 of 2020? We're a fan of the amazing fingerpaint hair colours and the wavy bobs. Just gotta love them!