I'm really really bad at making nail art… I can't draw very well and now that I have eye problems, it has become even more difficult.
Recently I discovered nail decals, nail foils, and all kinds of other cool ways to make your own nail art. I stumbled upon a lot of cute nail art for Halloween and decided to get crafty! So yup, I have made these Halloween nail art examples all by myself.
And I have to say, I totally fell in love again with nail art!
Related: Halloween couple's costumes
This time Halloween nail art is in the spotlight!
I have been really busy for days and hours making dozens of cool Halloween nail art examples and I've also filmed everything, so you can see how you can recreate this nail art step by step. Ideal, right?
I really hope you find this a helpful blog post, I have spent so long on this nail art (not to mention all the costs in terms of nail polish, nail decals, foils, stamps, and everything…. whew).
So sharing it on Pinterest, for example, would help me out a lot! Just don't use my images without prior written consent from me! 😀
Halloween nail art
Halloween nails
Skull nail art
First of all, let's start with some skull nail art.
I made this on my own nails and you will see that in this article I mainly used the new Essence gel nail polish (this is not real gel nail polish by the way, it just has a gel finish) as a base for all nail art.
Sometimes I have used a different brand of nail polish to create this Halloween Nail art, but then I'll mention it!
Used nail polish for this nail art: Essence gel Icing on the cake. A very good nail polish with white color, but there is a slight pearl shine in it, so the color does not look too much like White-out.
Blood nail art
I stuck these blood splatters (nail decals) on shorter fake nails using Essence gel Icing on the cake as a base.
Honestly, I love this nail art! It's still quite minimalist, but packs a punch!
Cute Halloween nail art
This is really one of my favorite nail art creations I've made. Maybe also because it's made on some shorter nails? In any case, I kept the remaining nail decals to make another one for Halloween.
I chose a white nail polish here, this is the color  Going coconuts by Essence. I used 3 layers of that (sometimes you need some extra layers for a white or very light nail polish to get a really good coverage) and then applied these cute nail decals on the nails.
Let it dry for a while and then applied your very last layer: a quick drying topcoat.
(base: Essence nail polish Icing on the cake)
Dia de los muertos nail art
I love the South American culture (I also studied Spanish for a reason, years ago) and I think one of the most beautiful traditions is 'Dia de los Muertos'. It is really celebrating a deceased person, more than mourning it than we do in our regions.
Unfortunately, it does tend to be used as Halloween inspiration, because it's skulls. But, it has nothing to do with that, it is more comparable to All Saints Day on November 1.
Anyway, I thought this was a very successful nail art! Very nice with white or very light-colored nail polish as a base, I also experimented with darker colors in this article, but I still think this is my big favorite.
(base: Essence nail polish Icing on the cake)
Skull nail art
This is also a very simple and easy Halloween nail art: these skulls!
(base: Essence nail polish Icing on the cake)
Vampire teeth
Of course, vampires can't be missing during Halloween, right? What do you think about these fangs on purple-almost-black nail polish?
(Base: very dark purple nail polish with glitter, but you can't see it so well in real life. The color is Ophelia from A England).
Tim Burton-style nail art
Okay, it's not really from Tim Burton (imagine if he made nail decals, that would be so wonderful!), but I thought it looked a bit like it!
Cute monsters nail art
Oh, I think this turned into such a cute set of nails too!
Again, these are nail decals which made it a very quick and easy nail art, and I decided to do 2 per nail right away since these are long nails.
Skull and candles nail art
On these cute short nails (the base color is another one from Essence, in the color coconuts) and I applied cool nail decals, which had a bit of the same color tones as the base nail polish itself.
Luckily the nail decals are still very noticeable, I was a bit afraid of them, and this is also one for the ladies and gentlemen with short nails.
This nail art had some beige tones, so I also wanted a beige background on my nails. That became the nail polish from Essence.
Blood splatter nail art
Holographic Halloween nail art
This is a very cute nail art, just because it is very subtle. Perfect for wearing to work or school. You only see that these are Halloween nails when you really look at the nails up close!
The base here is a nail polish by OPI, DS Extravagance.
Below you can see the nail polish in better light:
Creepy faces nail polish
Somehow this nail art reminds me a bit of the Cheshire cat from Alice in Wonderland, but this is really made for Halloween!
I combined a white base together with these nail decals that look really cool on this light background.
Pumpkins and Jack-o-lanterns nail art
I made this nail art on my own nails. The colors I used as the base colors, are the following nail polishes:
Kruidvat nail polish
One finger has gel nail polish (you can find this tutorial in the article 'How to apply gel nail polish yourself')
Finally, I applied these cute jack-o-lanterns (again, these are nail decals) and finished it off with a coat of Sèche Vite.
Dia de los muertos skulls
I mentioned that Dia de los muertos is often used for Halloween nail art and that I have also tested it with different colors of base nail polishes, and this is one of them.&nbsp
This is with a fun light pink color, but I still found that the nail decals don't stand out as well.
And below a version with super dark purple nail polish:
And below again the version with the white color:
Spiders nail art
I really hate spiders with a passion, but on my nails, I can still handle them. These are actually super cute pink nails, but with spiders on them!
Cobwebs nail art
This is another very minimalist nail art: a white base, along with some cobwebs and spiders (these also nail decals). These are all different nail decals that I combined together.
Halloween easy nail art
Creepy nails
Owl nail art
By themselves, owls are not that scary, but the sounds they make, can be!
Bats nail art
Black cats nail art
Blood nail art
If you want a reasonably unobtrusive Halloween manicure, this is a fun option though! This was a long strip that I cut into smaller pieces and applied to the nail tips like this.
Zombie nails
So cute, this nail art!
Ghost nail art
This nail art is very spooky! Here I painted the nails white first (3 coats in total) and then put the nail decals (the size of the whole nails) over it.
Golden nail art
Graveyard nail art
This nail art looks best on light-colored nail polish. Again, I used nail decals and combined a few different ones.
Coffins and a creepy cemetery or graveyards on your nails? That's Halloween for ya!
Grim Reaper nail art
Ah, Grim Reaper… who can't be missing from this Halloween nail art, right?
Nail art Halloween
Halloween nails
Halloween nail decals
These nail decals are meant to use on your entire nails. But be sure to cut them to size first!
Very colorful, but still spooky.
Halloween quotes
You can't go wrong with some Halloween quotes on your nails.
Super easy Halloween nail art
Witch hats nail art
I love this nail art so much! I think it's so cute, can't help it. These witch hats are very cool!
I first painted a shiny pink base coat (4 coats until it was as opaque as possible) and then placed the witch's hat nail decals. Very Hocus Pocus, no?
Cross Halloween nail art
Nail polish for Halloween
This set of nails for Halloween I mixed and matched more.
Floral Halloween nail art
Black cat nails
Well, if you know me, you know that black cats should not be missing from this list!
Pumpkins nail art
Ghosts nail art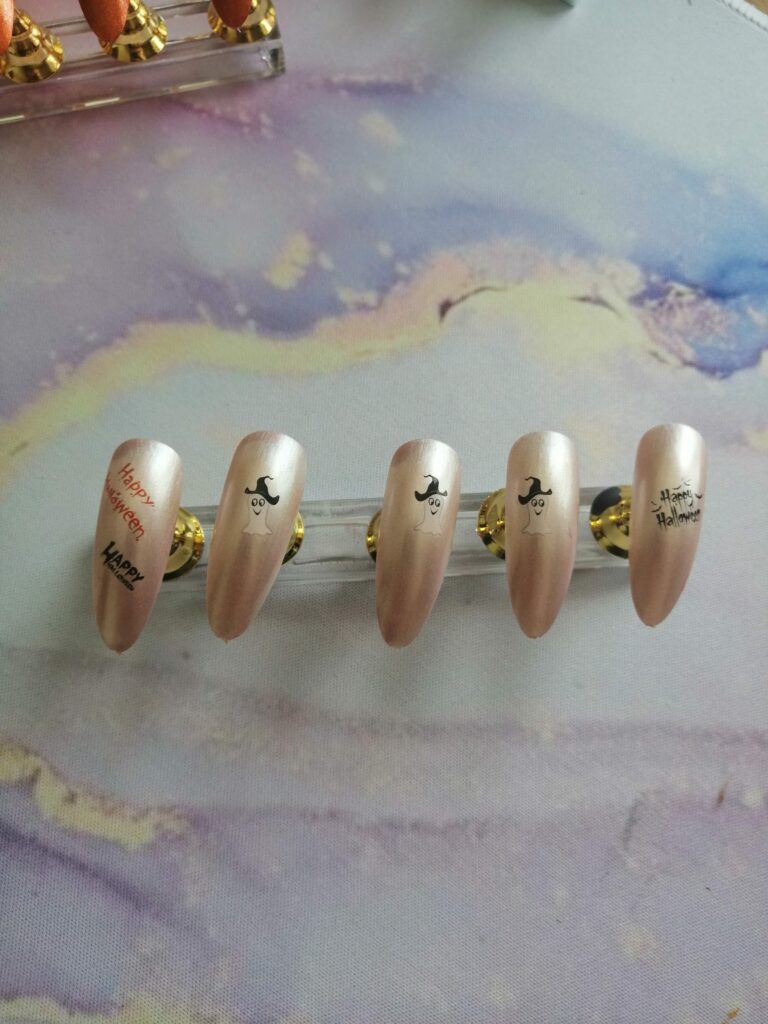 Halloween is the perfect time to get creative with your nails! Whether you're looking for something cute or spooky, there are endless possibilities when it comes to Halloween nail art.
If you're not sure where to start, try one of these easy Halloween nail art designs:
1. Spooky Spiderweb Nails: Start with a base coat of black polish, then use a white polish to paint on a spiderweb design. Finish with a top coat of clear polish.
2. Cute Ghost Nails: Paint your nails white, then use a black polish to paint on two dots for eyes and a mouth. Finish with a top coat of clear polish.
3. Frankenstein Nails: Paint your nails green, then use a black polish to paint on zig-zag stitches. Finish with a top coat of clear polish.
4. Pumpkin Nails: Start with an orange base coat, then use a black polish to paint on a jack-o-lantern face. Finish with a top coat of clear polish.
5. Cat Nails: Paint your nails black, then use a white polish to paint on two dots for eyes and a mouth. Finish with a top coat of clear polish.
So, get creative and have fun!