Yay, it's summer again! In our garden the dahlias and other flowers are in full bloom again and I am in the mood to create summer nail art;
In the summer I often wear brighter colors of nail polish than in other seasons, so bring on those bright colors! Curious about the nail polish trends of 2022 for this summer?
I spent several days creating super fun summer nail art for you guys, and this is the result: nice bright colors of nail polish and lovely nail decals that I used to get the coolest summer scenes on my nails!
Related: how to paint your nails
Related: diy gel polish nails
Related: festival nail art and festival nails
Summer nail art
Much of this nail art I made myself with cute nail decals or with nail stickers: after all, I'm not a hero at drawing, and especially not on my nails.
But, you see… once you get the hang of these techniques, you can quickly and easily create really fun summer nail art!
With summer in full swing, it's the perfect time to switch up your nail art game. Pastel shades are always a classic choice for summer – think soft blues, pinks, and greens.
Tropical-inspired designs, such as palm trees or pineapples and flamingos, also add a fun touch to any outfit. Floral nails are another popular trend, with vibrant blooms adding a pop of color to your fingertips.
Whatever design you choose, don't be afraid to go bold and bright – it's summer after all! Just make sure to properly prep and care for your nails before attempting any intricate designs, and remember to regularly apply a top coat for long-lasting wear.
So grab your favorite polishes and get ready to create some show-stopping summer nails.
Tropical nail art
Let's make some tropical nail art together! I love using nail decals to make some quick nail art:
1. Start with a base coat and let it dry completely before applying your favorite pastel shade as a base color.
2. Next, apply the nail decals of your choice – I love using palm trees or pineapples for that tropical vibe. Let your nails dry and go
3. For a fun addition, try using a dotting tool to add little gems or rhinestones on the decals for extra sparkle.
4. Finish off with one more layer of top coat to ensure long-lasting wear.
You've now got some tropical nails ready for your next beach vacation!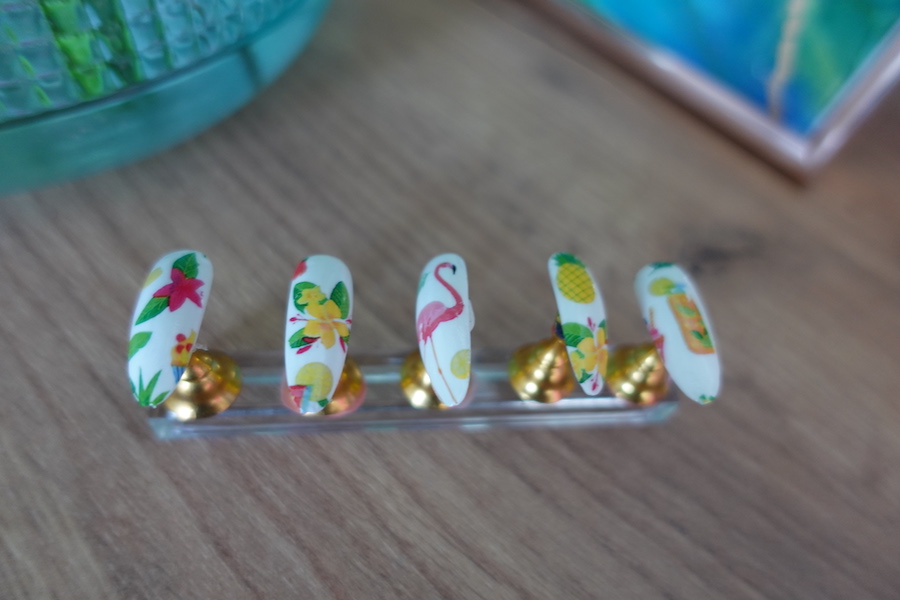 Floral nail art
Flowers always add a pretty touch to any nail design. Here's how to create some floral nails:
1. Start with a base coat and let it dry completely before applying a bright, bold shade as your base color – think fuchsia or yellow for that summery feel.
2. Using a thin brush or toothpick, carefully paint on your favorite floral design. This can be as simple or intricate as you'd like – have fun with it!
3. Finish off with a top coat for added shine and longevity.
You now have some beautiful floral nails that are sure to turn heads. Have fun experimenting with different colors and designs to create the perfect summer mani.
No matter what design you choose for your summer nails, have fun and embrace bright colors and bold patterns. It's all about making a statement and showing off your personal style! So go ahead, give yourself a little at-home pampering session and create some show-stopping summer nail art. Happy painting!
Flamingo nail art
You really can't go wrong with flamingo nail art in summer!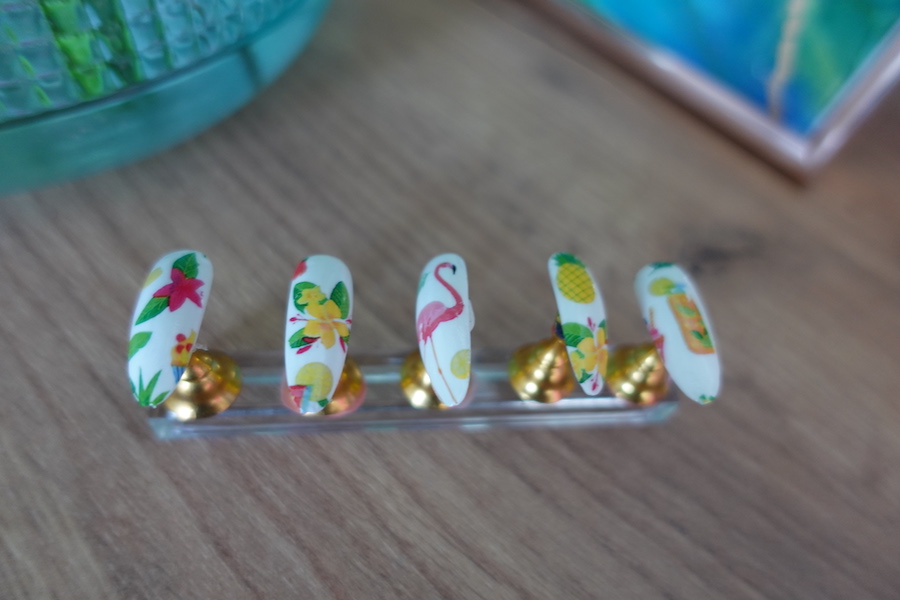 Pastel summer nail art
Cute summer nail art
Summer nail art for short nails
Summer nails